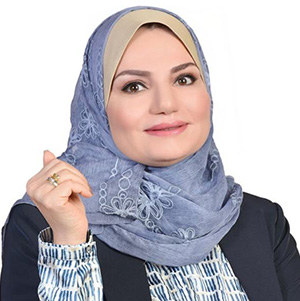 Dr. Jumana Sabbarini

Biography
Jumana Sabbarini completed her Bachelor Degree in Dental Surgery (1992) from Jordan University of Science and Technology, Jordan. She completed Master degree in Pediatric Dentistry (2005) from Alexandria University, Egypt. She is the Member of Jordanian Board in Pediatric Dentistry (March 2007). She is the Consultant in Pediatric Dentistry in Arabella Private Center. She is the Lecturer in Jordan University of Science and Technology (JUST) Irbid-Jordan. She is the Former Consultant in Pediatric Dentistry in Ministry of Health in Jordan. She is the Member of the European Academy of Pediatric Dentistry since 2013. She is the Member of the International Academy of Pediatric Dentistry. She is an Clinical Advisor of Esthetic Nusmile Crowns in Jordan. She is the Former Member and Examiner in the Jordanian Board Committee (Pediatric Dentistry) – Jordanian Medical Council.
Lecture
Prefabricated zirconia crowns as a new modality for treatment of permanent hypomineralized molars in children and adolescent
The presence of carious lesions in permanent molars of children and adolesence associated with developmental defects of enamel is frequently observed, restoring these affected teeth can be a challenge for the clinician. Teeth with enamel defects may have poor or limited resin adhesion and some may require repeated restoration.
Molar-incisor hypomineralization is defined as a demarcated qualitative defect of the enamel affecting the first permanent molars and often the permanent incisors. The clinical features of MIH in molars are enamel lesions with severe mineral deficit and rapid posteruptive enamel breakdown (PEB) can occur. Prefabricated zirconia permanent molar crowns were recently introduced as an option for restoring severely decayed and broken down young permanent molars. These new restorations offer an efficient, esthetic, and economic option to restore severely broken down carious permanent molars that may be associated with enamel defects in partially or fully erupted molars.
Furthermore, prefabricated zirconia permanent molar crowns provide an esthetic, full-coverage solution to using stainless steel crowns for (MIH). Patients have an esthetically pleasing option considering the sensitive nature of children, and low self- esteem problems. It's also built to last throughout their developmental stages of life from early childhood to growing up as young adults.
Moreover, introduction of prefabricated permanent zirconia crowns and adhesive systems in dentistry offers a new reconstructive alternative for severely destroyed teeth. Providing pleasing esthetics and a comfortable functional restoration that increases the confidence of both children and parents in dental management. Prefabricated zirconia crowns hold promise as a clinically and economically viable alternative for restoring permanent molars affected by enamel defects, tooth decay, and molar incisor hypomineralization.