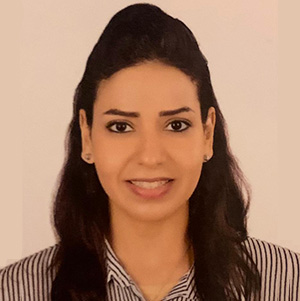 Dr. Rabab ElGhandour

Biography
Graduated from Faculty of Dentistry, Alexandria University – Class 2007. She did her postgraduate studies at the same university where she earned her master's degree in 2015 with thesis entitled "children's inclination towards different behavior guidance techniques" and her PhD in 2020 with thesis entitled "effectiveness of silver diamine fluoride in arresting early childhood caries".
She started her academic career as an instructor of Pediatric Dentistry in Pharos University in Alexandria (PUA) since 2009 till present where she is now holding the position of lecturer.
She is especially interested in minimally invasive dentistry and dental management of patients with special health care needs.
Lecture
Ectodermal dysplasia (ED) syndromes are a heterogenous group of inherited diseases characterized by abnormal development of tissues of ectodermal origin. X-linked hypohidrotic ED (HED) is the most commonly occurring form of EDs that is characterized by the triad of oligo/anodontia, hypotrichosis and hypo-anhidrosis. Oligo/anodontia leads to compromised chewing and swallowing abilities, esthetics, speech and social relations. Prosthetic rehabilitation at an early age is essential to improve oral functions and reduce social impairment.