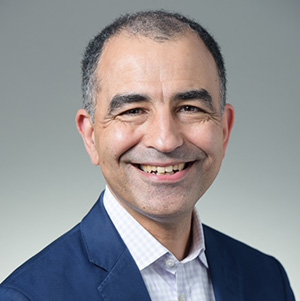 Prof. Amr Moursi

Biography
Dr. Moursi is Professor and Chair of the Department of Pediatric Dentistry at the New York University (NYU) College of Dentistry and on the Medical Staff of the NYU Langone Medical Center and the Bellevue Hospital Center.
He completed his D.D.S. degree at the University of Michigan School of Dentistry, a pediatric dentistry residency at Children's Hospital of Pittsburgh and then a Ph.D. in Craniofacial Biology at the University of California, San Francisco.
He is a board-certified Diplomate of the American Board of Pediatric Dentistry. He is President of the American Academy of Pediatric Dentistry (AAPD) and also serves as Fellow of the AAPD Pediatric Oral Health Research and Policy Center, and Director of the AAPD Comprehensive Review Course. Dr. Moursi also serves as an Examiner for
the Royal College of Surgeons in Ireland.
Dr. Moursi's research focuses on early childhood oral health and the integration of oral health in primary care. He has served as Principal Investigator on a number of federally-funded projects. Including, a current NIH-funded multi-center clinical trial evaluating caries arrest using Silver Diamine Fluoride in pre-school children.
He is the author or co-author of over 100 published articles, book chapters and policy briefs, including a contributor for the 2021 NIDCR's Oral Health in America: Advances and Challenges. He is also Editor of the textbook Clinical Cases in Pediatric Dentistry, 2nd Edition (Wiley). Dr. Moursi is also Host of the Dental Health Show on Doctor Radio, SiriusXM satellite radio.
In addition, Dr. Moursi has been an invited speaker at numerous national and international conferences and universities. Dr. Moursi has also led teams of NYU faculty and students to provide pediatric dental training, education and care to underserved areas around the world including Tanzania, Nicaragua, Grenada and Alaska. He also maintains a private practice in New York City.
Lectures
Lecture 1
Title: "Minimally Invasive Caries Management for Pediatric Patients"
Description: This presentation will discuss the most up-to-date information regarding non-
restorative caries management. Included, will be both current and emerging techniques and
materials used for re-mineralizing and arresting caries. Also, discussed will be
minimally invasive strategies such as the use of glass ionomer material and Hall crowns.
Lecture 2
Title: "Medically Compromised Patients with Congenital and Acquired Disorders"
Description: Medically compromised patients make up a significant pool of pediatric dental
patients. Patients with physical disorders such as asthma, seizure disorders, and congenital
heart defects are at greater risk of poor oral health. Likewise, poor oral health can have a
substantial impact on their overall health status and can also interfere with their medical
therapy. A comprehensive approach to managing these patients will be presented with
emphasis on prevention, early intervention and team-based care.
Workshop
Speaker: Drs. Jessica Lee, Scott Cashion and Amr Moursi
Title: "Emerging Clinical Techniques in Pediatric Dentistry"
Description: Autotransplantation and Frenectomies
In this workshop, two emerging clinical techniques will be presented. The first will be on tooth autotransplantation. In children and adolescents, the management of missing permanent teeth can be challenging. Treatment options include prosthodontic replacement, orthodontic space closure or tooth autotransplantation. The workshop will provide instruction in the area of tooth auto-transplantation as an adjunct to trauma management. The second technique discussed will be the often contentious area of frenectomies. The evidence base for the risks and benefits of frenectomies will be presented and various diagnostic scales and criteria will be addressed. In addition, conservative surgical techniques will be reviewed.