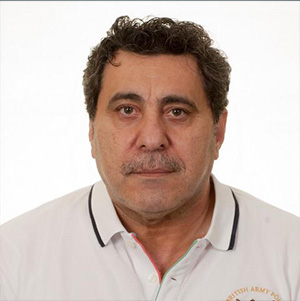 Prof. Fadi Antar

Biography
Dr. Fadi Antar, Pediatric Dentist, graduated from Boston University-USA in 1990. Since then, he is practicing Pediatric Dentistry in his Private clinic in Beirut. He is also a lecturer and clinical instructor at the Lebanese University, Pediatric Dental Department since September 1990.
During his Pediatric Dentistry profession, he was predicting developing malocclusions on his patients at a very small age, but couldn't do much to help them cause he was not introduced to the tools that could treat or intercept the developing malocclusions in primary or in mixed dentition and his advice was to wait till the age of 13-14 years to be treated with fixed orthodontics.
10 years ago, Dr. Antar was introduced to Myofunctional Orthodontics in Germany, where he attended many seminars and courses. Dr. Antar also attended many Myofunctional Orthodontics and sleep dentistry courses in Australia and USA until he had an excellent experience and started to implement the system into his daily practice. In 2012 he opened the first fully implemented Myofunctional orthodontics and sleep dentistry in the Middle East and named it "Smiling Faces".
Integrating and implementing the system into his practice allowed him to help hundreds of his patients by correcting their breathing habits, sleep disorder breathing (SDB), soft tissue dysfunction, and improving their cranio-facial growth. Thus, avoiding future complications of obstructive sleep apnea while correcting and intercepting their malocclusions at a very small age. Since then, Dr. Antar conducted many seminars and courses in Beirut, Bahrain, Amman, Kuwait, Oman, Alexandria, Cairo and Dubai.
Workshop
PEDIATRIC SLEEP DISORDER BREATHING
A WAKE-UP CALL FOR PEDIATRIC DENTISTS TO A GLOBAL PROBLEM
Increasingly it becomes apparent that the causes of Sleep Disorder Breathing begin to develop during early childhood. If these causes are left unchecked, a child's Sleep Disorder Breathing can result in a variety of childhood disorders ranging from enlarged tonsils and adenoids to learning difficulties and behavioral problems.
Sleep Disorder Breathing in Children has also been recognized as causing widespread health developmental and behavioral problems including difficulty concentrating at school. Additionally, as well as being determinantal to the development of the face, jaws, and teeth, if left untreated Pediatric Sleep Disorder Breathing can lead to significant and serious health problems causing poor quality of life later in adulthood.
The American Academy of Pediatric Dentistry policy encourages healthcare professionals to routinely screen their patients for increased risk and to facilitate medical referrals when indicated. This course provides a comprehensive overview of the evaluation and treatment of Pediatric sleep-disordered breathing from a myofunctional, and dental perspective.
Educational Objectives:
Identify risk factors for sleep-related breathing disorders based on history and physical exam
Advise parents on the benefits of early intervention and treatment of sleep-disordered
breathing and myofunctional disorder
Discuss the risks and benefits of initial treatment options
Understand when a referral to a therapist, ENT, or advanced professional may be
Indicated
Level of skill recommended for participants:
Of interest to Dentists (all Specialities), Students & Residents, Dental Auxiliaries,and Dental Office Staff