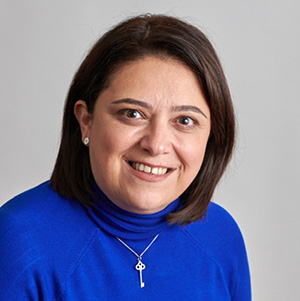 Prof. Sondos Albadri

Biography
Sondos Albadri is a Professor and Honorary consultant in Paediatric Dentistry at the University of Liverpool and currently the president of the British Society of Paediatric Dentistry. Sondos graduated from Jordan University of Science and Technology in 1997 with a BDS and completed her PhD from Queens University Belfast in 2001. She is the Vice Dean for Research and postgraduate studies and the academic lead for the Unite of Oral Health. Sondos's developed the Doctorate programme in paediatric dentistry. Sondos's research is focused on clinical and patients reported outcomes. She has research collaborations in dental Trauma, Stem cell and pulp regeneration, prevention, behaviour change and inflammatory disease in children. Sondos has published and co-authored many peer-reviewed publications and more recently published a textbook "Paediatric Dentistry for the General Dental Practitioner". Sondos is the academic representative on the Royal College of Surgeons of Edinburgh Speciality Advisory Board (SAB) in Paediatric Dentistry and a member of the examiners' board for the tri-collegiate membership examination in Paediatric Dentistry.
Lectures
Lecture 1
Title:
A Practical Guide to the Emergency Management of Dento-alveolar Trauma
Aim:
An overview for the presentation and management of acute dental alveolar
Learning outcomes:
By the end of this lecture you should be able to:
– Explain the presentation, diagnosis, management and consequences of traumatic dental injuries
– Describe and identify different types of traumatic dental injuries
– Consider the long-term implications and sequalae of traumatic dental injuries.
Lecture 2
Title:
Management of The Traumatised Immature Permanent Incisor
Aim:
How to optimise the outcomes of traumatised immature permanent teeth.
Learning Outcomes:
By the end of this lecture you will be able to:
– Understand The need to maintain pulp vitality
– Describe the current management for non-vital immature traumatised permanent teeth.
– Discuss the problems of performing root canal treatment on immature permanent incisors
– Describe the prognosis of non-vital immature incisors
Workshop
Title: "Challenges and Opportunities in managing dental trauma: Transitional care from Children to Adults"
Description: The overall theme is the transition of the patients with complex dental trauma who attended our services as children from paediatric to adult specialist's service. The content will conver a multidisciplinary team approach to short and long-term sequelae including surgical and non-surgical interventions. The participants will have the opportunity to interact through technology enhanced learning using their mobile devices.